By Ben Clemens
blogs.fangraphs.com
When Randy Arozarena burst onto the national stage, he did so as the best hitter in baseball. For one postseason, he channeled peak Joe DiMaggio, hitting a ludicrous .377/.442/.831 in the 2020 playoffs. He was no slouch in the playoffs last year either, posting a .333/.474/.600 line, albeit in just four games. If you follow baseball in October, you probably think of Arozarena as a bruising power hitter. During the regular season, though, he's something else entirely.
That's not to say he's a bad hitter. In fact, he's put together an excellent 2022 line by cutting down on strikeouts. He's been solid at the plate for three straight years now. He boasts a 133 wRC+ since the start of the 2020 season, a top 25 mark among all hitters over that timeframe, sandwiched between some guys you probably think are comfortably better than him: Corey Seager and Will Smith.
That's great, and fine, but that's not what I want to talk about. Arozarena is good in a conventional way in the batter's box. He's wild, and perhaps kind of bad, on the basepaths. It's an absolute blast. Observe.
In the first game of yesterday's doubleheader against the Blue Jays, Arozarena was busy early. In the first inning, he grounded into a force out, but beat out the double play relay throw to keep the inning alive and score a run. Arozarena is obviously fast; when you watch him you can't help thinking of a defensive back in the open field. He's compact and explosive; when he hustles down the line, you can almost hear the footsteps coming.
In the third inning, Arozarena delivered another RBI groundout, ho hum. That's when things got interesting. With two outs and Manuel Margot at the plate, Arozarena got the itch to run. He gets that itch a lot; he's attempted 39 steals this year and succeeded on 29 of them. I wouldn't call his base-stealing instincts great, but I would call them voracious. In fact, he'd already scratched that itch in this very game, stealing second in the first inning without a throw.
But if one steal is good, two is better. Arozarena doesn't so much steal on the pitcher as on the general disbelief that he can be stopped. A man on first and two outs? It's a classic base-stealing opportunity, a situation where you only need to be successful 70% of the time to break even. Say no more – it was go time for Arozarena. Even a hidden ball trick attempt couldn't stop him:
On 1-0, Arozarena took off and stole second easily:
Or did he? Home plate umpire Ramon De Jesus didn't think so:
Margot inadvertently made contact with Danny Jansen on his backswing, as you can clearly see from a reverse angle:
Easy call, if you're a veritable encyclopedia of baseball rules like De Jesus. If a batter inadvertently makes contact with a catcher on his backswing, the stolen base attempt simply doesn't count; the runner has to go back to first, but the result of the pitch counts. You don't see that one every day, but it seems like a pretty fair rule.
Not that there was any suspense about whether Arozarena was running, but now it was doubly obvious. Mitch White threw over to first before his next pitch, and Arozarena giggled a bit at Vladimir Guerrero Jr., who actually threw the ball back to White this time:
After bluffing a steal on 1-1 (he stopped after a bad jump), Arozarena was yet again on the move, and yet again easily safe:
But, uh, you're not gonna believe it:
Yep, another clear case of inadvertent interference on Margot's backswing. I don't know if I've seen two of those calls all year, let alone two in the same at-bat. What could Arozarena do but sulk back to first?
Honestly, I'd GIF the entire at-bat if I could. The Jays and Rays should keep cameras on Arozarena and Guerrero at first base; every time the broadcast panned there, they were bantering back and forth, presumably about how ridiculous the situation was. Arozarena is a ton of fun to watch, particularly on the basepaths, and he was in fine form yesterday. But that wasn't even the best part of this particular time on base.
When Margot put a ball in play, it stopped being a stolen base opportunity, and instead became an opportunity to get a head of steam and make something happen on the basepaths. Arozarena loves to do nothing else more – and that's much to his detriment. He's made 12 outs on the basepaths this year, the third-highest mark in the majors (Jose Altuve has 15, Yandy Díaz 14). Despite his blinding speed, he's among the worst in the game by UBR, our measure of how many runs a player has added or lost based on their non-stealing baserunning. That's basically tied with Alejandro Kirk, who isn't exactly known for being fleet footed. The Rays are on course for a historical tally of outs made on the basepaths, thanks in no small part to Arozarena and Díaz.
And those outs add up. Making an out on the bases every once in a while is unavoidable, but Arozarena racks them up in bunches. He's a gambler with unshakeable faith in his speed, but major league outfielders are pretty dang good. Still, you don't steal home in a playoff game if you're not pushing the envelope. Rays fans surely fret about the extra outs, but there's no denying the adrenaline rush he produces every time he tries.
Margot gave him another chance to shine, shooting a hard-hit ball off of Matt Chapman and into left field. Since Arozarena was running on the pitch, there was no doubt he'd reach third base. But he went one further:
Wait, uh, what? I've seen a lot of baseball in my day, but I can't think of any runners scoring from first on a single since Enos Slaughter's famous mad dash (and that was ruled a double). This wasn't even a particularly deep hit; Teoscar Hernández was in shallow left field when he fielded the ball.
My favorite part of this play is that Arozarena wasn't even running hard the whole time:
That's not to say he was loafing; he played it by the book until he reached third. There's no reason to sharply round second on a grounder there, so he was pulling in safely. When the ball kicked into the outfield, he took third base, again without needing to kick it into high gear.
That's a by-the-numbers play by a fast baserunner. Then, Arozarena channeled vroom vroom guy. Look at where he was when Hernández fielded the ball: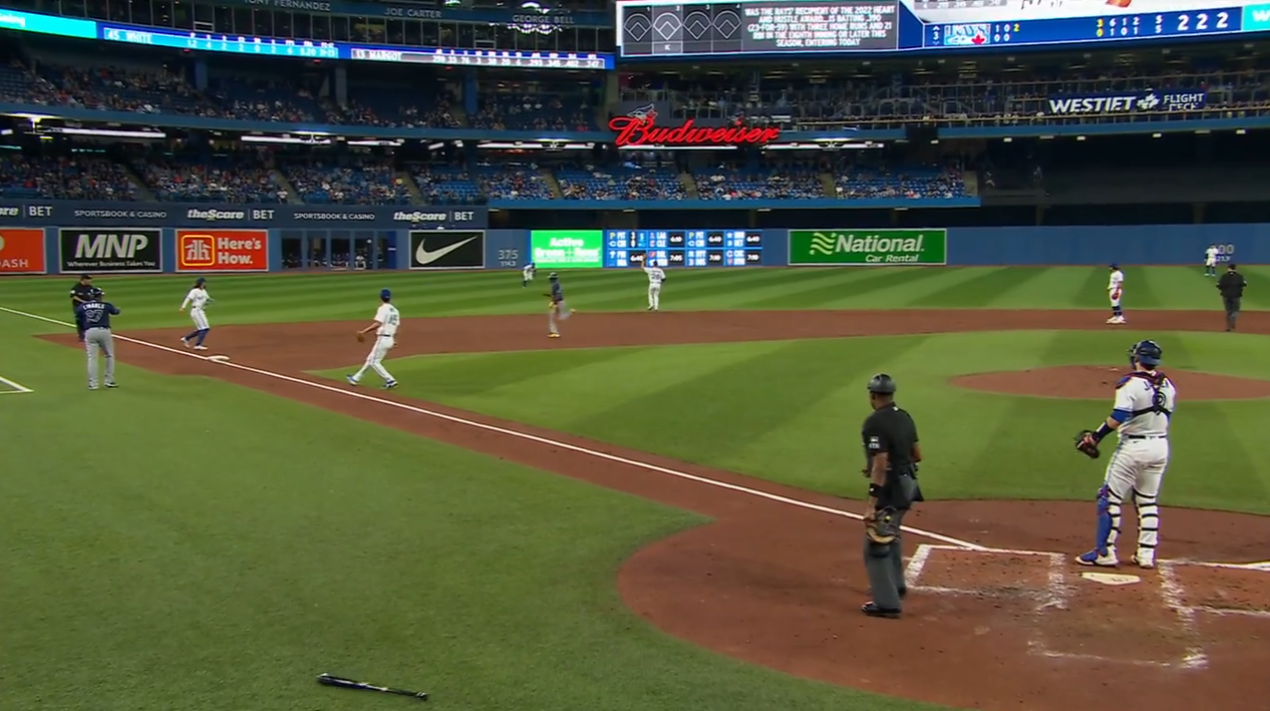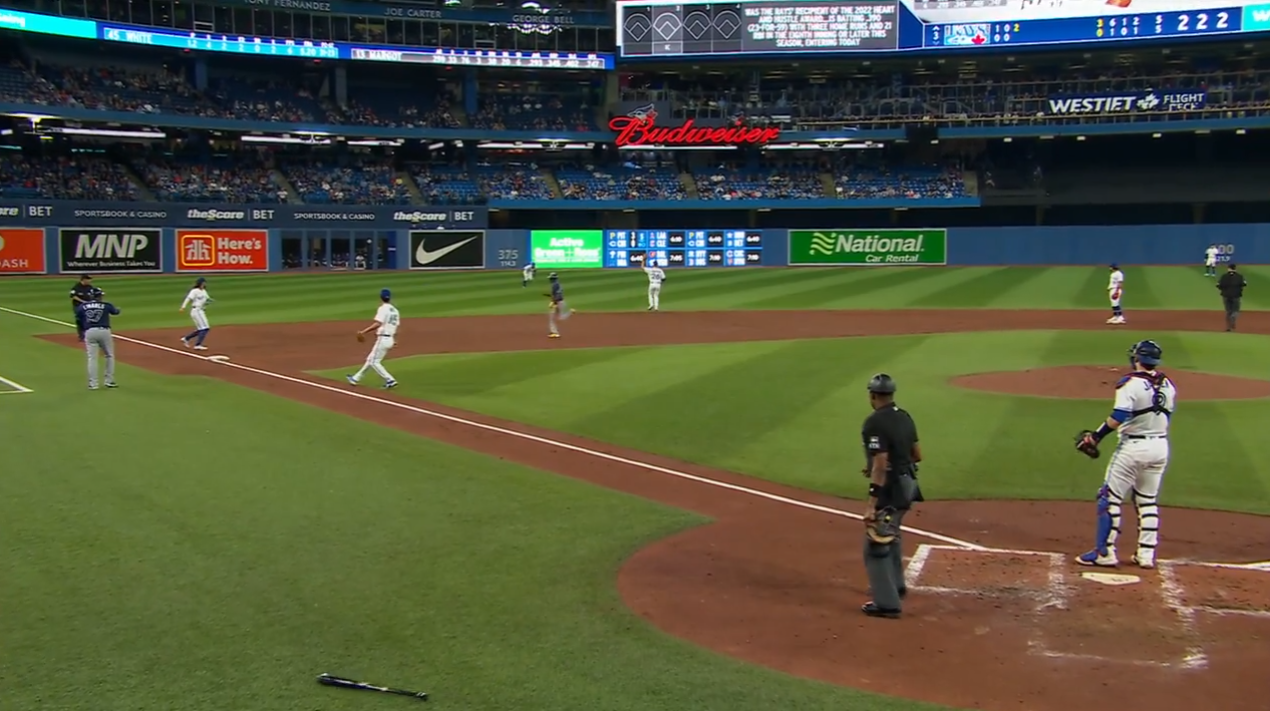 I don't even know what to think about this. This isn't just that Arozarena knows he's fast. He could be peak Cool Papa Bell and not cover that much ground before a throw made it home. He wasn't even running at full speed there; he was throttling down to stop at third.
That deceleration didn't last long. When Hernández didn't immediately throw to a relay man but instead started jogging in, Arozarena mashed the turbo button. He went from a slow jog to a sprint, catching Hernández off guard.
It still shouldn't have mattered. Hernández was in shallow left field, with the ball in his hands, when Arozarena touched third base. This isn't about testing a fielder's arm; I don't think there's any outfielder in the major leagues who couldn't make that throw if they knew they were going home with the ball, particularly now that Khris Davis plays for the Wild Health Genomes of the Atlantic League.
This was outright picking on the frailties of the human brain. Major league players are great athletes, masters of their craft, but thousands upon thousands of hours spent playing baseball builds pattern recognition, pattern recognition that Arozarena weaponized on this play (which I'll just note wasn't scored an error). When Hernández fielded that ball, he knew the play was over. One look at the runners – Arozarena decelerating into third, Margot cooling his heels at first – told him all he needed to know. This play was over; no need to come up throwing and risk an error.
You can see it in the way he fields the ball. No one in the stadium was expecting that play to require a full-effort throw, Hernández included:
I love it. I love everything about it. I wish every baserunner behaved more like this. I don't mean getting thrown out on the basepaths, though to be honest I'm in for the occasional light-hearted TOOTBLAN. I'm talking about the combination of speed, belief, and guile that led to Arozarena creating a run out of thin air. That wasn't a run-scoring opportunity. Usain Bolt wouldn't have scored there. Plenty of runners wouldn't have scored from second there.
In fact, I love this play so much that I'm going to break down Arozarena's mad dash into three parts. First, the attempted steal and realization that the ball is in play:
That's pretty standard. I think he had the base stolen pretty easily, and when he saw a grounder to third base, he correctly throttled down at second. When the ball kicked away from Chapman, the next read was automatic, something that every fast player in the majors does instinctively:
Again, easy. After an initial acceleration, he realized there wouldn't be a competitive play at third base and did what every runner does in his situation: ease off. With the advantage of starting in motion, any baserunner in the majors would likely reach third there. But what happened next was pure genius, and it's more fun in an isolation view of Arozarena. Even as he was decelerating into third, he made up his mind that he was going to pick on Hernández:
He had eyes on Hernández fielding the ball. When he turned his head away, he had made up his mind: he was going to hope Hernández made a bad throw from a tough position, coasting towards second and throwing halfway across his body. I'm honestly not even sure it was much of a gamble; Arozarena had time to peek back and see the throw, and was still close enough to third that he could have made it back safely if the throw was on line.
That's something you don't see every day, because if you saw it every day it wouldn't work. You can't subvert expectations for fun and profit if you're always doing it; those expectations would change. This was a sublime moment, but it was just a moment: Arozarena also makes plenty of overly-aggressive attempts at extra bases that end in disaster.
On this day, though, he was perfect, and his speed and derring-do accounted for two RBIs and a run in a 4-2 Tampa Bay victory. But all that running takes a toll. After two successful stolen bases that got called back, two pickoff throws, a bluffed steal, a foul ball on a steal attempt, and that trip around the bases, Arozarena was gassed:
Who could blame him? That's a lot of running, and a lot of thinking on his feet while doing it.
Baserunning doesn't always work out this well for Randy Arozarena. It almost never works out this well, in fact. Even counting this play, he's been an atrocious baserunner this year. But I don't really care because that was a blast. I audibly gasped when I saw this play developing in real time. He couldn't score from there, could he? How could he even think about trying to score from there? Then, of course, he went and did it. More audible gasps in baseball. More audacious baserunning decisions. More Randy Arozarena, please.
]">Source by [author_name]